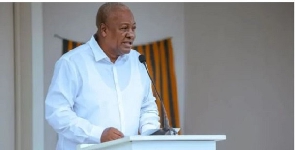 The Ministry of Education has said recent claims by former President John Dramani Mahama that the Free SHS food is not fit for dogs is just an attempt to redeem his image after Ghanaians criticized him over what they termed unpresidential and vulgar.
"The Former President's explanation to his earlier statement is a clear attempt to redeem his image and his unpresidential, vulgar and very low language which he used". Mr. Kwasi Kwarteng, Public Relations Officer of the Ministry of Education lashed out

Mr. Kwasi Kwarteng challenged the Former President saying there can never be any good reason for anyone to compare food for human beings to that of dogs.

"There is no way the former president should compare food for dogs to that of humans", he said.

Addressing delegates and party members in the Asikuma Odoben Brakwa Constituency, in the Central Region on Wednesday, March 29, 2023, Mr Mahama was quoted to have said "Today, if you look at the quality of food being served the students, pardon me, but I'm sure even dogs in their homes will not be served such poor quality of food"

In a recent explanation of his comments during his campaign tour of the Eastern Region, after he was tongue-lashed by some Ghanaians, Mahama revealed that he did not mean to disrespect or insult anyone.
According to him, his comment was a call for the government to improve the flagship programme.

But the PRO of the Ministry insisted that the fact that the Former President issued a disclaimer during his comment does not make it right.

According to him, the Former President after realizing these challenges in the feeding system of the government Free Senior High School programme could have drawn the attention of the Ministry or any relevant authority for a discussion rather than denigrating the innocent children of Ghanaians.

"But then you have a Former President in his attempt to draw the nation's attention that there could be food challenge, which currently there is no such challenge, he chose to go on an un-presidential language. Why because he is trying to disgrace the government and the minister to gain his own political points", Mr Kwasi Kwarteng told Kwame Tanko on Angel In the Morning.