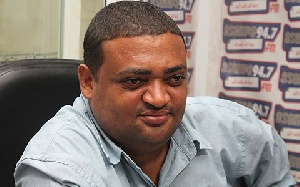 The former Deputy Coordinator of the National Disaster Management Organisation (NADMO), Joseph Yamin has prophesised doom for the ruling New Patriotic Party (NPP) in the 2020 general elections following the yet to be implemented Free SHS policy by the Akufo-Addo's government.
Mr Yamin envisaged that Ghanaians will throw the NPP out of power in 2020 because they will not be able to fulfil the free SHS policy promise.

He doubted the sustenance of the free SHS policy to be implemented in September, 2017 saying the President Nana Addo Dankwa Akufo-Addo lacks the funds to finance the touted policy.

Speaking on Ultimate Breakfast Show hosted by Lantam Papanko, he launched a scathing attack on speech writers of the free Senior High School (SHS) policy describing them as 'enemies' of the President.

He questioned the number of students who enroll in schools saying the speech writers of the President did him a disservice.

Mr Yamin suggested that the president could have progressively itemised the fees yearly than to do it all at a go.
He wondered if the President had the opportunity to read the speech before going public.

'I have made this statement before that whoever wrote that free SHS Policy speech for Nana Addo is his biggest enemy and that will cause the defeat of the NPP in 2020 elections, I am telling you, because Nana Addo can't do it. I have been in government before.

Those that wrote the speech for him have done him more disservice. Free SHS and they went as far as itemizing it and telling us what he is going to introduce, it's even more than the quantum we are putting on it today.

How much is admission, feeding fees today? Each child in boarding is charged GHC5.00 for feeding, so the three months the child will stay in school will be GHC450.00. How many people attend boarding schools in our country? Day students are also going to be fed free.

My brother how is this going to be possible, come on,' a pessimistic Yamin said.