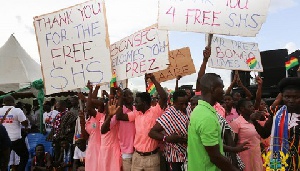 Member of Parliament for Bantama and Government spokesperson on economy and finance Daniel Okyem Aboagye has said no child will be bitten by a dog in few years to come due to government's free SHS program.
Speaking on the floor of Parliament Thursday, he claimed "recently, someone went to a house in Kaneshie and got bitten by a dog. He didn't know. 'Beware of dogs' he could not read.

"Because of the investment we are doing today, in five to ten years' time, no child will be bitten by a dog, because they can read 'beware of dogs' ".

He added: "Mr Speaker, so the argument is simple, beware of dogs will not be a problem tomorrow."

The Free SHS policy is a Government of Ghana initiative introduced by the Akufo-Addo administration in September 2017.
The policy had been a major campaign policy prior to the election of President Akuffo-Addo in 2016.

In 2018, the President and his team introduced another initiative as part of the Free SHS Education Policy which is the Double Track System.

The Double Track System was introduced by the government in order to enable the various Senior High Schools in Ghana to take in more students and ensure that all Ghanaian students have access to a Senior High School education.

The Double Track System is in two sessions, thus The Green Track and The Gold Track. The Green Track represents the first batch of students who would go to school for a semester and are later followed by the Gold Track students who would continue after students of the green track session have vacated on the academic calendar