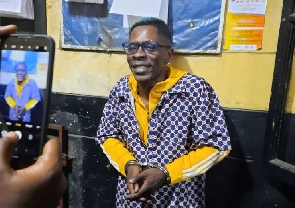 Sammy Flex, a member of the management team of Shatta Wale, has called on the dancehall artiste to call off his December 25, 2023, concert scheduled to take place at the Accra Sports Stadium.
In an open letter addressed to Shatta Wale, Sammy Flex noted that the concert which forms part of the annual Freedom Wave Festivities held by the Shatta Movement boss faces political hurdles and traps which could potentially lead to Shatta Wale's arrest and incarceration.

"It has come to my attention that the upcoming annual Freedom Wave Festival at the Accra Sports Stadium faces significant political hurdles and potential traps that could lead to your arrest and even a possible loss of your freedom though you want to organize a Freedom Wave Concert. This situation is deeply troubling, and I feel compelled to share my concerns with you," the letter stated.

The advise by Sammy Flex comes on the back of controversy surrounding the alleged decision by the National Sports Authority to release the Accra Sports Stadium to Shatta Wale's industry rival, Stonebwoy who also has a show scheduled for December 22, 2023.

According to Shatta Wale, the decision by the NSA considering the proximity of the dates for the two events is a deliberate attempt to sabotage his concert.

In his open letter to Shatta Wale, Sammy Flex urged his artiste to consider his safety and that of his fans under the circumstance to cancel the Accra Sports Stadium event while looking at available options.

"Political tensions have been rising, and the authorities have recently allocated the venue to another musician, a move that seems designed to disrupt your show and cause discomfort to your team and fans. The environment is fraught with uncertainty and potential conflict.
"As much as we all look forward to the Freedom Wave Festival every year, I urge you to consider the safety and well-being of yourself, your team, and your fans. In these politically charged times, it is crucial to make a decision that prioritizes your security.

"I understand how important this festival is to you and your fans, but the risks involved in pushing forward with the event this year are too great. I implore you to seriously contemplate cancelling the event and exploring alternative options for the safety of everyone involved," he stated.

Meanwhile, Shatta Wale in response to the open letter has thrown the verdict to his fans to consider the advice by Sammy Flex and decide on whether the show should be cancelled or not.

"In good faith I take this and I will leave the rest for the fans to discuss and see how I have been a target in this country because of my outspoken and confidently saying things the way they should be said in a country like Ghana," Shatta Wale wrote

"Fans of shatta movement kindly take your time and read deeply into what our big brother and manager Samuel Atuobi Baah has written and let's discuss!!" he added.

GA/SARA
Watch the latest episode of Everyday People on GhanaWeb TV below:



Ghana's leading digital news platform, GhanaWeb, in conjunction with the Korle-Bu Teaching Hospital, is embarking on an aggressive campaign which is geared towards ensuring that parliament passes comprehensive legislation to guide organ harvesting, organ donation, and organ transplantation in the country.

Click here to start the nomination process for the 2023 GhanaWeb Excellence Awards