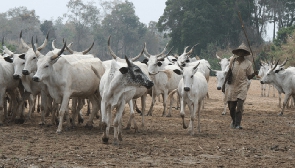 The Kyidomhene at Maame Krobo-Afram Plains, Nana Afrane Matthew has confirmed that calm has been restored to the area after Fulani herdsmen clashed with some farmers in the area.
It was reported that some Fulani herdsmen fled to the town to lay an ambush.

This was after a farmer, Kwasi Ahoku, was allegedly shot dead by a SWAT team of the Ghana Police Service following a complaint by a Fulani herdsman over the killing of his cattle.

This informed the youth to launch reprisal attacks against the herdsmen.

Speaking on Atinka TV's morning show, Nana Afrane Matthew said the farmers at Afram Plains have suffered attacks from the Fulani Herdsmen since 2015.

He noted that while these herdsmen are expected to provide food for their cattle, they rather send them to people's farms to eat their plants, and when the farmers complain, they attack them.
He narrated that last Thursday, one of them sent his cattle to a farm to destroy plants, and the farmer who noticed it could not control his anger and therefore shot into the cattle.

The Fulani herdsman, Nana Afrane Matthew, reported to the SWAT team.

While they got to the farm, the farmer in question was not there, and on their way to find him, they arrested all the farmers on the road, sent them to the police station, and they were in custody for five days before they were granted bail.

He said the Fulani whose cow was shot later led the police to the farmer's house and when they got there, they called him out for questioning.

The farmer who was out initially told the SWAT he was going to dress properly, but when he entered the room, he refused to come out.
The police SWAT team then began firing shots into the room, killing him.

According to Nana Afrane Matthew, as of now, they do not know where the body of the deceased is.

He said when he asked the police about the incident, they said they did not kill the farmer, meanwhile, when he entered the room, he said he found no weapon or anything that indicates that the man killed himself.

He said eyewitnesses said the police shot about 15 times into the room.

Due to that, he confirmed the youth went haywire, and it took some soldiers to calm the situation.
Meanwhile, he said the police said they are investigating the matter but have not said anything to the family.

You can also watch this edition of People & Places on GhanaWeb TV: