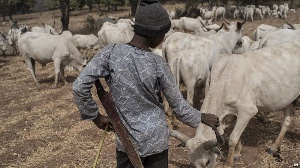 The Asante Akyem North District Security Council(DISEC) has resolved to evict herdsmen from the Agogo Traditional Area.
The latest action by DISEC in the Fulani herdsmen menace follows the shooting of three soldiers and a Police officer who are part of a task force set up to evict the herdsmen from the area.

The four were reportedly shot by persons believed to be herdsmen in the enclave.

Speaking to the media after a DISEC meeting Tuesday, the DCE for the area, Francis Oti Boateng said, they have decided to fully implement a 2012 court order which advises a forcible eviction.
"Now what we are doing is total evacuation; we're not leaving any cattle on the land. And actually, the first command was defective, because the first command was that 'go and sack or flush the animals from the land', but we were not ordered to kill the animals or also to kill the fulanis. But now that the Fulanis are firing back what should we do? We have to sit down and restructure the first order so that now, they'll go in in full aggression so that they can kill or shoot anything on sight, that is the new order that we are looking for.But DISEC has sat down and we have resolved that we'll pass it to the REGSEC and we're waiting for the order because we cannot overly expose our military men to such dangerous situation."

Meanwhile, the Agogo District Police Commander, ASP Samuel Azagu, has been transferred after the latest Fulani herdsmen attack on Monday.

The Commander was accused of being compromised by the herdsmen and cattle owners and is allegedly the force behind the apparent impunity by the herdsmen.