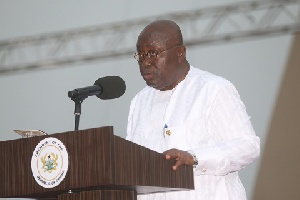 Activities of Fulani herdsmen which have often resulted in the killing of Ghanaians in several parts of the country will be arrested and dealt with decisively, President Nana Akufo-Addo has stated.
Addressing the National Council of Fulani Chiefs at the Flag Staff House, (a body that was recently constituted by the Fulani Community in Ghana,) the President said the herdsmen and their work, which has often led to the outbreak of fighting between them and indigenous Ghanaian crop farmers, is of great concern to his administration.

To that end, the President welcomed the request for cooperation between the Council of Fulani Chiefs and the National Security apparatus to resolve the menace.

The President indicated there is an existing committee working under the Ministry of Agriculture which has the president of the Association of Herdsmen on it.

He announced that he would like to have two representatives of the Council of Fulani Chiefs on the committee so they can all work together to find a lasting solution to the challenge.
Mr. Akufo-Addo emphasized that there is a very strong business potential in the cattle ranching industry. He insisted that with good organization and cooperation, revenue will be realised by all interested parties.

In his speech, the acting president of the Fulani Council of Chiefs, Iddriss Mohammed Bingle, indicated that as part of their efforts to halt the Fulani herdsmen's clashes with crop farmers in the country, they are proposing the formation of task forces that will liaise with the security agencies in all the regions where there are herdsmen to enforce the law without fear or favour.

They called on the President to direct the Heads of the security institutions to cooperate with the task force. President Akufo-Addo welcomed the suggestion and assured the Chiefs that all will be done to get the proposed task force in place.