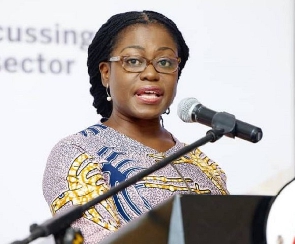 Funding for women-empowered businesses on the continent remains largely unexploited, leaving a sizable gap in a critical area that financial institutions and governments can harness, second deputy Governor of the Bank of Ghana (BoG), Elsie Addo Awadzi, has said.
While calling for more to be done in this regard to deliver more resilient economies, she said the central bank will continue giving emphasis to funding for this segment of the market as a key strategy for ensuring comprehensive economic recovery.

"Access to finance for women is not just a good thing, it makes business sense. It is well established by existing literature that giving women access to finance positively impacts consumption patterns, increases economic growth and promotes financial stability – because women are known to be better and more responsible borrowers. Broadly speaking, therefore, gender-inclusive finance serves as a catalyst for rapid, sustainable, resilient growth and socioeconomic development," she elaborated.

She made this known at the formal launch of the Affirmative Finance Action for Women in Africa (AFAWA) Financial Series in Accra.

Her comments come as African Development Bank (AfDB) says that women entrepreneurs on the continent are faced with a US$42billion funding gap, despite contributing almost US$300billion to the continent's economic growth in 2016 – which is equivalent to about 13 percent of the continent's Gross Domestic Product (GDP).

It is further estimated that the figure could double in less than a decade if the funding gap is significantly reduced.

Mrs. Awadzi stated that the BoG took this into consideration when crafting the Sustainable Banking Principles, as it aims to drive gender equity in the financial inclusion agenda.
She added that the online reporting and supervisory tool for regulated entities will provide comprehensive, yet segregated, data on the level of funding to women-powered businesses; while the credit bureau system will allow for access to finance without landed assets to serve as collateral.

"We believe that this is key because of how important data is in policy formulation. We are fully committed to promoting inclusive finance as a catalyst to improving inclusive macroeconomic growth," Mrs. Awadzi noted, adding these efforts are expected to drive Ghana's gender financing gap which stood at 11 percent in 2021, compared to the global average of 6 percent.

On her part, the African Development Bank's (AfDB) Country Manager for Ghana, Eyerusalem Fasika, explained that the AFAWA series – spearheaded by the AfDB and African Guaranteed Fund (AGF) – not only seeks to provide access to finance for women-leaning business but also training to women entrepreneurs and participating financial institutions.

She noted that Ghana represents an ideal destination for the third AFAWA Financial Series – after Tanzania and the Democratic Republic of Congo – owing to the high rate of women entrepreneurs in the country.

Ms. Fasika urged participating financial institutions to tailor their products and services to the needs of women-owned businesses.

With women owning approximately three percent of land in sub-Saharan Africa, despite investing more than 50 percent of their earnings to cater to the well-being of their families and communities, Group Chief Executive Officer at the Africa Guarantee Fund (AFG), Jules Ngankam, said his outfit aims to minimise the perceived risk associated with lending to women by taking up over 70 percent of the risk.
"It is not surprising that when we look at the GDPs of countries where there is more women property ownership and participation in the economy, it is higher than what we have here. What we are trying to do is fix the broken link. It is assumed that the women-led businesses are riskier, but we are seeking to give comfort to the financial institutions; and over time they will see that perhaps the businesses are not so risky and, ultimately, lend more to them," he explained.

Mr. Ngankam disclosed that US$3billion has been earmarked for the project over a five-year period. Already, the initiative has seen US$1billion invested in lending to women across 27 countries on the continent.

On his part, CEO of the Ghana Association Bankers, John Awuah, promised the overwhelming support of domestic banks in the country, acknowledging that it will prove crucial in providing credit to the real economy at a time when economic recovery is paramount.

He is optimistic that AGF's participation will reduce associated risks and, consequently, lending rates to women-owned businesses through the programme.

This comes amid tighter credit conditions since the BoG's prime rate currently sits at 28 percent as the monetary authority seeks to rein-in inflation – which decreased marginally to 53.6 percent on a year-on-year basis in January from a more than 20-year peak of 54.1 percent December 2022. The benchmark Ghana Reference Rate for February was 33.25 percent.