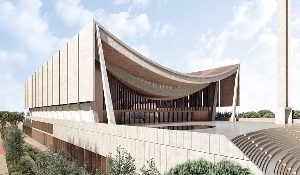 The government will on Friday, December 28, 2018 launch a fundraising for the construction the National Cathedral of Ghana, a project which has attracted a lot of public attention.
The Chairman, board of trustees and the Fundraising Committee of the National Cathedral have already started to send out invites to some selected individuals to attend a dinner at the State House, where the event will be launched.

The President, Nana Addo Dankwa Akufo-Addo is advertised on the invite, which 3news.com has sighted, as the guest of honour.

The President mounted a spirited defence of his administration's decision to construct the national cathedral in the capital, Accra. It will be situated on a 14-acre public land.

Despite the resistance by a section of the public, including the Minority in Parliament, the President insisted the cathedral will be "built to the Glory of God".

A national fundraising programme to be held in Ghana and later in the US for the building of the national cathedral was subsequently announced by the Minister of Finance, Ken Ofori Atta.
On the front of the dinner ticket are the inscriptions "National Cathedral of Ghana", "For God and Country". On the back is " A NATIONAL INHERITANCE FOR GENERATIONS YET UNBORN" as well as a biblical quotation from Nehemiah 2:20:

"The God of Heaven He will prosper us: therefore we his servants will rise and build".