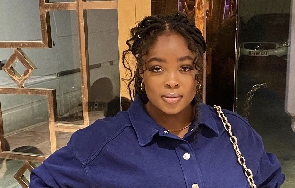 A 31-year-old Ghanaian woman living in Brixton, London, who was stabbed to death in an unprovoked incident in a park in the city, has been buried.
The Metropolitan Police announced on Monday, May 1, 2023, that Johanita Kossiwa Dogbey had passed away.

According to the police, she was stabbed in Stockwell Park Walk in Brixton, "when she is believed to have been approached by a man from behind who attacked her."

The suspect, identified as 33-year-old Mohamer Nur, has since been arrested and charged with the murder of Johanita.

In a tweet shared by Dionne Grant, a partner manager at Twitter and one of the people who have been reporting on her case, she said that the funeral of the late Ghanaian was held on Monday, July 10, 2023.

Johanita Kossiwa Dogbey is said to have gone out to buy a birthday present and was on her way back when the attacker struck, killing her by the time police and first aid responders arrived at the scene.
She was the founder of the Odette Foundation, a charity that worked with people suffering from sickle cell disease in Ghana and Togo, the UK Daily Mail reported.


The funeral of Johanita Kossiwa Dogbey has taken place today. The 31-year-old was fatally stabbed from behind in an unprovoked daylight attack while walking home in Brixton, south London, on May 1.

Police confirmed 33-year-old Mohamer Nur has been charged with her murder.

May… pic.twitter.com/9o3EDKMzvK

— Dionne Grant (@DionneGrant) July 10, 2023
In the meantime, watch the latest episode of #SayItLoud on GhanaWeb TV with Etsey Atisu below:




You can also watch this episode of People & Places here:






Watch the latest episode of Everyday People on GhanaWeb TV below:




AE/OGB