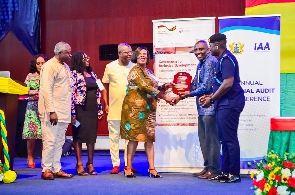 The Ghana Airports Company Limited (GACL) has emerged as 'Best ERM Compliant Institution' in the SoEs Category of the Internal Audit Agency's (IAA) Annual Awards to institutions.
Enterprise Risk Management is the process of identifying, analysing, managing and monitoring current and emerging risks in an integrated way across the breadth of the enterprise. It provides the methodology for integrating risk into the strategic planning and resource allocation processes at the strategic level.

In a statement issued by the GACL, the state-owned enterprise was awarded on the premise of maintaining an effective, consistent and transparent system of Enterprise Risk Management (ERM) in accordance with ISO 31000:2018.

Managing Director of GACL, Pamela Djamson-Tettey who was present to receive the award at the 2023 Internal Audit Conference held on Friday September 15 at the University of Professional Studies, said the feat was a testament of the hard work and dedication of all staff and management of the SOE.

"We deem it a great privilege to receive this recognition from the Internal Audit Agency (IAA). This award is a validation of GACL's internal systems designed to monitor and promptly manage current and emerging risks within the organization, which are working well," the GACL MD said.

She indicated that "for an industry that thrives on safety, GACL prioritizes Risk Management and continuously updates its risk register to reflect current trends. This award will undoubtedly spur the team on to ensure that Enterprise Risk Management is embedded in all facets of the organization".
Madame Djamson-Tettey further added that GACL will continue to adopt international best practices to widen its capacity and scope in addressing Enterprise Risk Management compliance.




Ghana's leading digital news platform, GhanaWeb, in conjunction with the Korle-Bu Teaching Hospital, is embarking on an aggressive campaign which is geared towards ensuring that parliament passes comprehensive legislation to guide organ harvesting, organ donation, and organ transplantation in the country.

Watch the latest edition of BizTech and BizHeadlines below:








Click here to start the nomination process for the 2023 GhanaWeb Excellence Awards