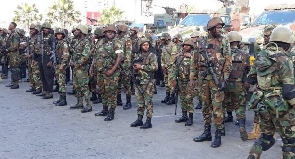 The Ghana Armed Forces (GAF) is expected to commit about 1,250 troops to Operation ENHANCED KOUDANLGOU, a Multi-National Joint Task Force (MNJTF).
This was disclosed during a brief when the German Ambassador to Ghana, Daniel Krull visited the MNJTF headquarters co-located with the Headquarters of Northern Command in Tamale.

Operation ENHANCED KOUDANLGOU would involve countries namely Benin, Burkina Faso, Cote D'Ivoire, Ghana, Mali, Niger, Nigeria and Togo; and would seek to incapacitate Terrorist Armed Groups (TAG) and organized crime groups operating along the borders of the aforementioned countries.

The Commander of the Joint Task Force, Major General (Maj Gen) Michael Amoah-Ayisi stated that the participating countries were using this period to coordinate and prepare adequately to ensure smooth operations.
He added that measures were being implemented to enhance interoperability among participating countries.

The General Officer Commanding Northern Command, Brigadier General (Brig Gen) Matthew Essien commended the German Government for its immense support in the areas of training and logistics especially with regards to intelligence and surveillance/reconnaissance equipment.