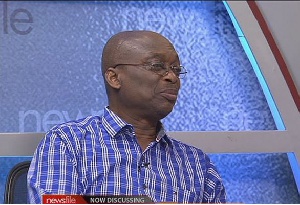 The Managing Editor of the New Crusading Guide newspaper, Kweku Baako has criticised the action of the Director-General of the Ghana Broadcasting Corporation(GBC), for rejecting the Governing Board's instructions to proceed on leave.
According to Mr. Baako, the entrenched position taken by the D-G is not healthy for his course predicting his actions will bring more chaos at GBC.

For him, seeking refuge in the National Media Commission would have been a better option for him to cure the mischief that has prevailed for the past days.

"All I'm saying is that there are civilised options that we should apply to cure certain mischiefs; the content of the letter says I'm rejecting your decision, so what's next? We saw one and I don't want to pre-empt- we may be going to the EC. So, I can see a situation where a similar scenario may occur.

The man decides to go to the GBC place and work, he gets there, gate closed, or his door closed, what does he do? is the letter going to cure that mischief? No!"So I'm saying two options; Perhaps he should start with National Media Commission for them to activate it into action.

Maybe they themselves should have done something already. If I were the D-G I will proceed to the appropriate forum and cure the mischief, by filing the appropriate processes in the court of law." he said on Joy FM's News File Saturday.
The Director-General of the Ghana Broadcasting Corporation (GBC), Dr. Kwame Akuffo Ntow, has refused to proceed on leave despite the GBC Board's directive to do so.

Reports say the former has declined to submit to the instructions of the Board insisting it's only the National Media Commission(NMC) which has the power in his case to alter his terms of appointment.

Dr. Akuffo Ntow in a letter addressed to the Board Chairman drew the attention of the Board Chairman that under his terms of contract, it is the NMC which is the only body with the authority to appoint and alter his terms of appointment.

He said under the circumstances, he cannot act on the Board's directive until an express directive from the NMC on any such decision to proceed on leave.

Dr Anoff-Ntow was asked to proceed on leave following his alleged poor handling of issues in the controversial TV license matter.