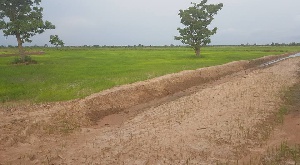 Tue, 16 Aug 2016 Source: GABC
The Ghana Commercial Agriculture Project (GCAP) is supporting farmers to increase the production of local rice.
According to the Project Coordinator, Mr Charles Nornoo, GCAP is supporting the development of land for an improved rain-fed rice cultivation at the Nasia- Nabogo valleys of the Northern Region, one of the growth poles identified by the SADA policy.

He noted that 600ha has already been developed, out of which 60% would be given to smaller-holder farmers in the catchment to cultivate.

Six domestic anchor investors, who are also benefiting from the scheme would be working with the smallholder farmers by providing them with extension services, inputs and output markets.

The Project Coordinator also noted that additional 2400 ha would be developed next year to make Ghana reduce the dependency on imported rice.
Earlier, the project provided training in environmental and agronomic management of rice production to the beneficiary farmers. The Zonal Coordinator, Mr. BC Attipoe also noted that preparatory work on the rehabilitation and modernization of the Tono and Vea Irrigation Schemes is underway. The intervention will improve the operations of the 3500ha on the two schemes and provide direct jobs to about 4000 farmers and service providers.

GCAP is a World Bank/USAID funded project with the objective "to improve agricultural productivity of both smallholder and nucleus farms in selected project intervention areas through increased access to reliable water, land, finance, agricultural inputs, and-output markets"

In addition, GCAP in the last two years has supported 31 Nucleus Farmers and Aggregators in the Accra Plains and SADA Zone so that they in turn support their out-growers in a Nuclues-Outgrower arrangement. The interventions were used to remove binding constraints identified by the Nucleus Farmers so that they could channel their resources to improve their services to the out-growers.
Source: GABC