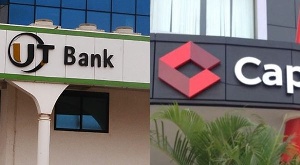 Management of the GCB Bank Limited (GCB) has announced that it will clear all outstanding debt of the collapsed UT and Capital banks.
According to the Chief Finance Officer of the Bank, Socrates Affum, they are doing this to protect the interest of customers of the defunct banks.

He announced this at a sensitization forum organized by GCB for the unionized workers of UT and Capital banks at Burma Camp in Accra on Saturday, August 19.

Mr Affum further assured better working conditions for staff of the two banks who have been absorbed by GCB as part of the takeover.

The Central Bank withdrew the licences of the two banks recently and GCB took over transfers of all their deposits and selected assets after a purchase agreement.