General News Wed, 9 May 2018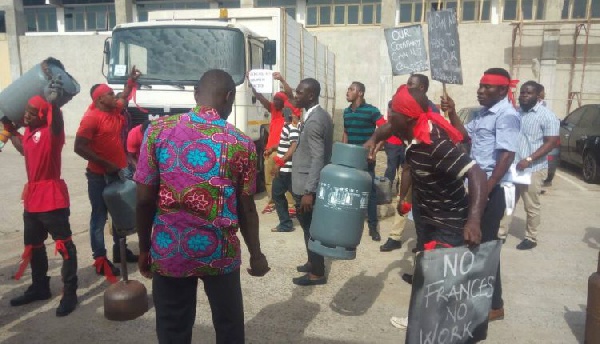 Workers of the Ghana Cylinder Manufacturing Company Limited are protesting the suspension of their embattled CEO, Frances Essiam, by the board of the company.
According to the workers, Frances Essiam has turned the fortunes of the Company around since she was appointed as CEO last year.

"We are protesting because of the information we are picking that our CEO, Frances Essiam has been suspended. We received a letter from state enterprising commission saying contrary. According to the letter, the chairman of state enterprising commission is investigating what the board chairman has said.

"We don't know the state of the company now, we need explanations because we have seen a lot of improvement and development since Madam Essiam was appointed, so why are they suspending her after all the good she has done for the company," one of the agitating staff told Starr News' Daniel Nii Lartey who is currently at the premises of the company.

The board of the Ghana Cylinder Manufacturing Company Limited (GCMCL) Tuesday ordered the company's Chief Executive Frances Essiam to step aside with immediate effect.

The action came on the back of the impasse between the board and Madam Essiam over some of her decisions since assuming the post last year.
In a statement Tuesday after a meeting at the Robin Hood Hotel on the Spintex road, the board decided that all contracts entered into by Madam Essiam have also been put on hold pending investigations.

The Board, has in the interim, appointed the Technical Director of the company, Mr. Ezekiel Mensah to act in the absence of Madam Essiam. Mr. Mensah, however, does not have the power to take "major administrative decisions such as promotion, termination of appointment, dismissal or engagement of new employees without the consent of the Board."

The Board has also reversed the "purported termination of appointment of the Finance and Accounts Manager until the committee of Inquiry recommends otherwise."

Essiam on Tuesday ordered the company to be locked up over reports the board intended to hold a meeting at the premises. She, however, denies the allegations of financial malpractices.