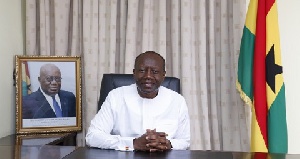 The Ghana Employers Association (GEA) says it is engaging the Bank of Ghana and the Ministry of Finance on the events in the banking sector in order to better appreciate the issues and find ways to support the sector's sanitization.
Mr Alex Frimpong, the Chief Executive Officer of the GEA, said the banking sector was the nerve centre of every economy and developments that negatively affect the sector could impact other parts of the financial system, hence the need to hasten carefully.

Mr Frimpong was responding to concerns raised by a member of the Association about the GEA's silence on the matter, which was costing many people their employment.

The concerns were raised at a Breakfast Meeting held in Accra on Tuesday to solicit the views of the GEA and as well as gather their key issues of concern to inform the Association's focus for the next three years.

Mr Frimpong said the GEA is engaging the BoG, as the regulator, to learn more about what was happening in the industry, the potential impact on businesses, enterprise development, entrepreneurship, and mostly importantly, "lessons that can be learnt so that this thing does not recur".

"We shouldn't forget that capital is a coward; it goes where it is needed and stays where it is well treated, so if these developments send shivers down the spine of potential investors, I'm sure it will create a lot of difficulties for us," he said.

Mr Frimpong said potential investors will look at how strong the sector is as well as whether or not the regulator is able to help them in case of any problem, thus there is the need to work together to sanitise the sector.
He added that the GEA will fully support the regulator or any other body mandated to handle the issue as those found to be complicit should be face the full course of the law.

Mr Frimpong said ensuring that those who lost their jobs as a result of the problems in the banking sector regained employment in the shortest possible time, will depend largely on how the economy expands to provide more jobs.

Other concerns raised by the members of the GEA who were present included the duration of sick and maternity leave, the need for minimum standards enshrined in law to guide redundancies, and collective bargaining, particularly for the hotel industry.

Mr Frimpong said the Association, going forward, will pick the key issues of concern from its consultative fora, including the three that was held in Takoradi, Kumasi and Tema, to be made the focus of its advocacy work in the next three years.

It will also arrange tailored discussions on the issues with relevant experts in order to equip members to deal with those issues.