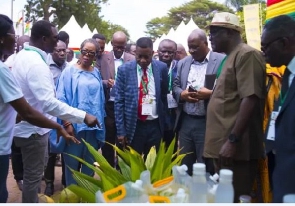 The Ghana Export Promotion Authority (GEPA) has said it is determined to develop the coconut industry by exploring new markets for industry players.
"Presently, the sector employs about 360,000 people; and about 5.4 percent of the country's population also depend on coconut farming as a means of livelihood," said Dr. Afua Asabea Asare, Chief Executive Officer-GEPA.

The move to explore more opportunities, she explained, will enable the industry to produce more, employ additional people and ultimately contribute to national development.

She said this at the opening ceremony of the 3rd International Coconut Festival in Takoradi. It was on the theme 'Invest in Ghana's coconut sector for inclusive climate and social resilience'.

The three-day event, which started on September 26, 2023, was organised by the African Coconut Group with support from the Western Regional Coordinating Council (WRCC), Ghana Export Promotion Authority (GEPA), the Tree Crop Development Authority (TCDA) and SOLIDARIDAD.

The event will see a diverse array of activities including trade exhibitions, seminars and mentorship sessions tailored for young individuals and women in the coconut sector.

It will also feature economic and technical negotiations and foster networking opportunities among participants.
It brought together key stakeholders in the coconut value chain within the country and from Nigeria and Sierra Leone.

The coconut festival highlighted the economic and health benefits of the commodity, and new marketing opportunities among others.

The CEO of GEPA noted that Ghana is making its mark on the global stage when it comes to coconut production. "Our coconut-oil, water and other derivatives are the most-sought after on the international market," she added.

She revealed that, currently, Ghana is ranked 12th in world production of coconut and is the number-one producer in Africa. "Our outfit has distributed over one million disease-resistant coconut seedlings to coconut farmers across the major coconut growing regions of the country."

Dr. Asare said there is a need for more investment in the sector to increase production, and that the current global demand for coconut is estimated at US$4.5billion. The country, she revealed, exports only US$11million of coconut products annually.

Kwabena Okyere Darko-Mensah, Western Regional Minister, on his part noted that the Western Region stands out as a major producer of coconut.
"The Western Region is accounting for approximately 80 percent of Ghana's total coconut exports and firmly establishing itself as the industry's hub in the country," he added.

He called on industry players to invest in the coconut sector to help position Ghana as a premier hub for coconut globally.

William Quaitoo, Acting CEO-Tree Crop Development Authority (TCDA), pledged the Authority's support to grow value addition in the coconut industry.

"We are committed to driving research and innovations to promote investment and scale-up development of improved coconut varieties and modern farming techniques to boost productivity and attract huge investments," he added.