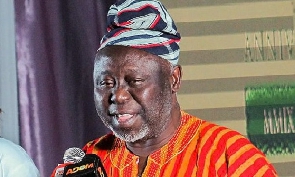 The Ghana Football Association has mourned the death of its former chairman, Lepowura MND Jawula.
The veteran Ghanaian football administrator, who was the Chairman of the MTN FA Cup Committee before his death, died at the age of 72 in Nashville, Tennessee, USA.

Because MND Jawula died as a Muslim, he will be buried on Sunday, January 22, 2023, and the burial ceremony, which will be in line with Islamic custom, will be held at the ICN Bellevue Masjid, 7337 Charlotte Park, Nashville, USA.

"We're saddened by the news of Lepowura MND Jawula's death. Alhaji was Chairman of the GFA from 1997–2001. He also chaired the @MTNFACupGH & was Chairman of the @GhanaLeague Organizing Committee until his demise. Our thoughts are with his family, friends, and all who knew him," the GFA announced.

The late MND Jawula led the Ghana Football Association as its chairman for four years, between 1997-2011.

He steered the affairs of Ghana football from 1997 to 2001. His reign saw the U-17 team place 2nd and 3rd in the 1997 and 1999 World Cups, respectively, and the U-20 team place 2nd in the 2001 World Cup.
He was also the one-time chairman of the Real Tamale United Football Club.


We're saddened by the news of Lepowura MND Jawula's death.

Alhaji was a Chairman of the GFA from 1997-2001.He also chaired the @MTNFACupGH & was Chairman of the @GhanaLeague Organizing Committee until his demise.

Our thoughts are with his family, friends and all who knew him. pic.twitter.com/urzb9dINE4

— Ghana Football Association (@ghanafaofficial) January 21, 2023