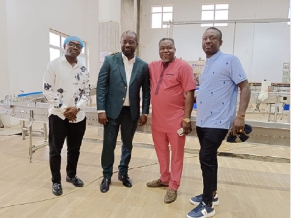 Ghana Football Association (GFA) President Kurt Okraku met with Angel Group CEO Dr. Kwaku Oteng on Tuesday, June 1, 2023, at the Angel Group headquarters in Kumasi.
The purpose of the meeting was to discuss ways to collaborate on football development in Ghana.

During the meeting, President Simeon-Okraku commended Dr. Kwaku Oteng for his exemplary leadership and acknowledged the Angel Group's instrumental role in the advancement of football investment and its significant contribution to nation building.

The President recognized the Angel Group's commitment to supporting the development of football in the country and its positive impact on the socio-economic fabric of Ghana.

The discussions between President Simeon-Okraku and Dr. Kwaku Oteng encompassed future collaborations between the GFA and the Angel Group, emphasizing the need for corporate support in various sectors.
The meeting explored avenues for mutual benefit and potential partnerships that could further drive the growth of football and contribute to the overall progress of the nation.

Following the fruitful discussions, Okraku undertook a familiarization tour of the Angel Group's facilities.

During the tour, he had the opportunity to interact with the staff of the company, gaining insights into their operations.