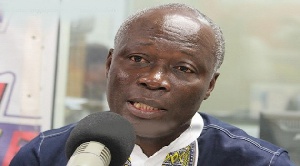 Former Youth and Sports Minister, Nii Lante Vanderpuye has called on government to push for fresh elections to elect new executives for the football association.
According to the MP for Odododiodio the country's failure to respond to FIFA after three months of post Kwesi Nyantakyi era has been the cause for FIFA to threaten Ghana with a ban.

FIFA, in a letter to the Dr Kofi Amoah-led Liaison Committee currently managing Ghana football, accused the government of third-party interference and gave the country an August 27 ultimatum to withdraw its application to the High Court to commence the liquidation process of the GFA or risk being banned from all football-related activities.

But Nii Lantey believes the delay to get new has been the cause of this threat.
"By this time we should have had new elections and elected new executives onto the Exco to administer our football we delayed too much that is why FIFA has come in.

"Fifa suspends Nyantakyi for three months and they were expecting we to take an action to restore sanity but we have gone beyond three months and it is the cause," Vanderpuije tells Starr sports.