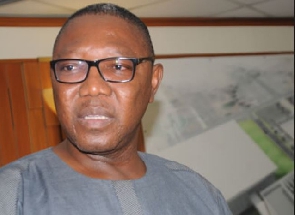 A Deputy Ranking Member of the Education Committee of Parliament has slammed the government over the insignificant increment in the cost per meal per child under the school feeding programme.
Dr. Clement Apaak says the government had told the International Monetary Fund (IMF) it would increase the cost per meal per child under the programme as part of conditions before our bailout was approved.

The Builsa South Member of Parliament was responding to the increase from 97 pesewas to GH¢1.20p per meal per child under the programme.

The MP, in an outrage, said the amount could not even feed a cat, let alone prepare a nutritious meal for a child.

He said the government had assured the IMF that all social intervention programmes would not only be protected but enhanced, hence it made no sense for the government to propose unrealistic GH¢1.20p.

He also revealed that parliament had approved an allocated amount of GH¢959 million for expenses in the sector, and that should have covered activities in the education sector, including the School Feeding Programme.

He is therefore worried the caterers under the programme are on strike over unpaid arrears.
Read his full post below:

SCHOOL FEEDING PROGRAMMES AND CATERERS STRIKE

Gov't allocated 959 million for 2023, and Parliament approved the same.

Gov't told the IMF, see page 11 of the staff level agreement, that it had increased the allocation to the programme to OFFSET THE IMPACT OF INFLATION.

Both gov't and IMF promised that social intervention programmes will not only be protected but enhanced.

So why is gov't proposing the unrealistic 1.20p per child per day.
With food inflation over 40%, what can 1.20p buy? This amount can not feed a pet cat, let alone prepare a hot nutritious meal to feed a pupil.

By the way, the caterers are still on strike!

Dr. Clement Abas Apaak

M.P, Builsa South