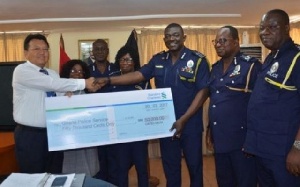 The Ghana Police Service has said a GHS50,000 donation made by a Chinese businessman in Ghana towards the construction of the Police Intelligence and Professional Standards (PIPS) Headquarters at the Nima Police Station is not to influence them.
"It's not something that can be used to buy the entire Ghana Police Service as people are speculating," Head of Public Affairs of the Police Service, Superintendent Cephas Arthur has said following social media comments that the donation could influence the police to go soft on Chinese who are engaged in illegal small-scale mining (galamsey) in Ghana.

Superintendent Cephas Arthur said due diligence was conducted on the benefactor CAITEC Group and its CEO Mr. Tang Hong by the Criminal Investigations Department (CID) before the Police Service started accepting donations from him.

Mr. Tand Hong, who is the Chairman of the Ghana Association of Chinese Societies recently made the donation in fulfillment of a pledge he had made following a fundraiser organised by the Ghana Police Service, SP Arthur told Francis Abban on Starr FM on Tuesday, 4 April.

Mr Tang Hong, who was accompanied by the former Director-General of PIPS, COP Joana Osei-Poku (Rtd), said the donation is to support the Ghana Police Service combat crime in the country.

He added that he was touched when COP/Mrs. Osei-Poku approached him for assistance for the construction of the facility.
The Inspector-General of Police (IGP) David Asante-Apeatu received the donation on behalf of the Police administration and thanked Mr. Tang Hong for the kind gesture, saying the donation would be used judiciously for the intended purpose.

The IGP recalled similar donation of motorbikes totaling 52 made on separate occasions in 2016 by the same person to the Police.

Mr. Asante-Apeatu used the occasion to call on corporate organisations, philanthropists and other institutions to emulate the shining example of Mr. Hong.

Present at the ceremony were POMAB members: Director-General/Technical COP Rose Bio Atinga, Director-General/Administration COP James Oppong-Boanuh, Director-General/Services COP Frank Adu-Poku and Director-General/PIPS DCOP Simon Yaw Afeku.