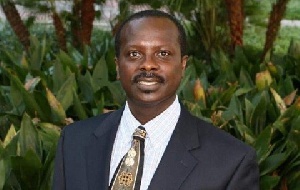 The GHS400,000 filing fee being charged all flagbearer hopefuls of the National Democratic Congress (NDC) is too high and has the propensity of sowing seeds of political corruption, U.S based Ghanaian professor, Kwaku Asare, has said.
All male flag bearer aspirants of the NDC are expected to pay GHS 400,000 as filing fee while female flagbearer aspirants are to pay GHS200,00 and persons with disability aspiring to the same position are to pay GHS150,000.

The nomination form for the flagbearer slot is going for GHS20,000.

Also, the parliamentary aspirants are expected to pay GHS20,000 as filing fees.

Female parliamentary aspirants will pay half of that.

The party took the decision at a National Executive Committee (NEC) meeting on Thursday, 29 November at the party's headquarters in Accra.

In a post on Facebook shortly after the announcement, Prof Asare said: "GHS420,000 is a lot of money to pay for ballot access in a political party. Clearly, precisely and unambiguously, such exorbitant fees sow the seeds of political corruption."
"We cannot sit down silently for the seeds of corruption to be planted only to find our voice when the planters harvest their fruits."

"I propose that no political party should be allowed to charge filing fees that exceed 10% of the annual salary of the office being sought."

"Furthermore, I propose that filing fees be waived entirely if a candidate can get 100,000 signatures for the presidential flag bearer position (10% of registered voters for parliamentary flag bearers)."

"Our Constitution frowns upon 'moneycracy' but we seem not to pay attention to it. We must decide whether we want to run a democracy or a 'moneycracy'."