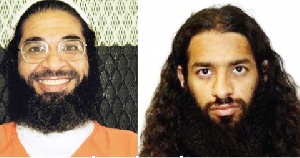 The Ghana Refugee Board has said the 2 Guantanamo Bay detainees attained refugee status in July 2016.
Mahmud Umar Muhammad Bin Atef and Khalid Muhammed Salih Al-Dhuby, were brought to Ghana from the United States' infamous Guantanamo Bay after President Obama moved to close down the detention center.

A diplomatic agreement reached between the Mahama government and the US in January 2016 required Ghana to take a decision on their stay after two years.

Speaking to Ekourba Gyasi on Atinka AM Drive, Programmes Coordinator for the Ghana Refugee Board, Tetteh Paddy, stated that one can only attain refugee status based on Nationality, race, political affiliation, membership of a social grouping.

According to him, the two met those qualifications and were accepted as refugees in Ghana.
"We all know about the infamous Guantanamo Bay and the fact that the lives of the two will be in danger when they return to their country," he added.

However, the Deputy Foreign affairs minister, Charles Owiredu also in an interview with Ekourba Gyasi, explained that the current administration was putting measures in place to repatriate the Gitmo Two detainees only for them to chance upon a document suggesting that the two had been granted refugee status.

"There was nothing in the handing over statement suggesting that the two had been granted refugee status in the handing over notes submitted by the then government", he added.