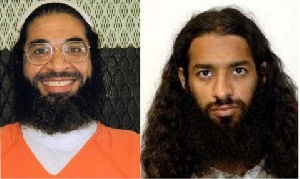 The two former Guantanamo Bay detainees are currently self-employed as they run their private business in Ghana, the Foreign Affairs Ministry has confirmed.
This has become possible due to the refugee status conferred on them by the government of Ghana through the Refugees Board in 2016.

However, a Deputy Foreign Affairs Minister, Charles Owiredu who disclosed this on TV3's News 360 on Monday would not divulge the kind of business they two have been engaged in.
The two-year bilateral cooperation between the governments of Ghana and the United States of America to keep Mahmud Umar Muhammad Bin Atef and Khalid Muhammad Salih Al-Dhuby in the country expired on January 6, 2018.

Foreign Affairs Minister, Shirley Ayorkor Botchwey told Parliament last week that the US government has washed its hands off the ex-detainees, which means they are now the sole responsibility of Ghana