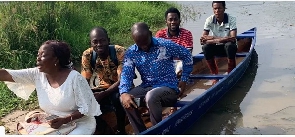 Thu, 2 Feb 2023 Source: GNA
The Keta Chapter of the Ghana National Association of Teachers (GNAT) in the Volta Region has donated two wooden Canoes to Lawoshime and Wenyagor M/A basic schools to facilitate access.
This, they said, would aid in accessing the school located along the lagoon in the event of flooding and transportation.

Mattah Ferguson, the Keta and Anloga chapter Chairman of GNAT, disclosed to the Ghana News Agency (GNA) the schools requested the canoes after a tour by the Association to the schools.

He disclosed that some teachers and pupils were finding it difficult to access the school, especially during the rainy season due to flooding.

The situation, Mattah disclosed, needed attention "since there is no electricity and other good social amenities, most of the teachers come from far and may need to cross the river every day for teaching and learning."
Alex Midedzi, Headteacher at Lawoshime basic school, who received the items expressed much appreciation for the offer.

He told the GNA the offer would mitigate the expenses incurred by the teachers and others in boarding a canoe to school.

Alex Ahia, the Assembly member for the area, thanked the donors for their support.

He called on the government and other well-meaning Ghanaians to help rescue residents in the area from other problems such as potable drinking water, good roads, and others.
Source: GNA