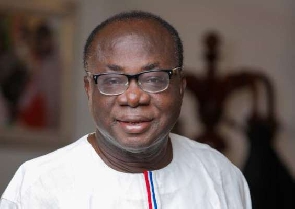 After what has seemed like pressure mounted on Freddie Blay, the Board Chairman of the Ghana National Petroleum Corporation (GNPC), he has indicated that he is no longer pursuing the offer of having PetroSA get an equal split in the interest held by GNPC's subsidiary Jubilee Oil Holdings Ltd.
According to a myjoyonline.com report, Freddie Blay said this decision was informed by the directive given by the Minister of Energy, Dr. Matthew Opoku Prempeh.

"As I talk to you now, I have ceased and I have desisted in accordance and with directives of my supervising minister," he said.

The GNPC Board Chairman is also reported to have stated that he did no wrong in offering interest in Ghana's oil fields to a South African oil company.

Instead, he said that every move he made was in the best interest of Ghana, and that everything was done in good judgment.

"Possibly, I could be fired, but I don't see any reason why they are saying I should resign about this issue. I have done nothing wrong.

"I have observed my conscience and I thought I was protecting the interest of the country, and I am convinced about it and if others think otherwise, and if those who appointed me are saying otherwise, then so be it," he had stated in an earlier interview with Citi FM.

There have, however, been mounting pressure on Freddie Blay to resign from his role.
How Freddie Blay, GNPC tried to 'sell' 50% of Ghana's oil interest in Cape Three Points to PetroSA

The Minister for Energy, Dr. Matthew Opoku Prempeh, alias NAPO, in letters sighted by The Chronicle, slammed the Board Chairman of the Ghana National Petroleum Corporation (GNPC), Freddie Blay, for championing his outfit's quest to offload oil interest of Ghana contrary to the directives of the government.

The minister criticised Blay, a former national chairman of the New Patriotic Party (NPP), in letters he wrote to the GNPC board chair and President Nana Addo Dankwa Akufo-Addo while referring to letters issued by Blay and the board chair of South African National Company (PetroSA), the company buying the oil interest from Ghana, Nkululeko Poya.

In the letter issued by Blay, which was dated April 23, 2023, the GNPC indicated that it had agreed with the proposal of PetroSA for an equal split of the 7 per cent interest that the Government of Ghana recently acquired from Anadarko West Cape Three Points Company ("Anadarko").

It added that PetroSA, in turn, will surrender any interest in the Deep Water Tano (DWT) held by Jubilee Oil Holdings Limited (JOHL), a subsidiary of the GNPC.

The GNPC did, however, indicate that the deal was subject to the approval of the Energy Minister, Dr Matthew Opoku Prempeh.

"Consistent with the said advice, the GNPC Board has considered and are agreeable to your proposal to share the interest in an equal split in the DWT interest held by JOHL. Our Board, considering your strong views in maintaining PetroSA's claim to pre-emptory rights afforded under the DWT Joint Operating Agreement, and being desirous to continue to cultivate the cordial relationship between our two entities, agree that this split is prudent to both parties' interests.
"In agreeing to this split, we expect that PetroSA shall relinquish any further or future claims on the remainder of the DWT Interest held by JOHL. This agreement, however, as per the terms of Article 25 of the DWT Petroleum Agreement, remains subject to the written consent of the Minister of Energy for Ghana," parts of the letter read.

"We shall consider a long stop date of three (3) calendar months from the date of this letter to reach a final sale and purchase of the equal split in the DWT Interest held by JOHL subject to unforeseen and unexpected delays on the side of the Government of Ghana and its representatives on this matter," it added.

In response to the GNPC letter, PetroSA, in the letter dated May 7, issued by Poya, said that it agreed with the proposal.

It added that it would approach NAPO to get his approval of the deal.

"PetroSA, by extension PetroSA Ghana Ltd acknowledges and agrees that as part of the completion for this transaction, it will issue GNPC with a formal notice of relinquishment of rights to the remaining DWT interests held by JOHL.

"We will formally approach your Honourable Minister for his consent to the assignment of the interest in question, to PetroSA Ghana Ltd," the PetroSA letter read.

"In looking to conclude the transaction optimally, we appoint Mr Linda Nene - General Manager-PetroSA Ghana Ltd as PetroSA's senior responsible owner for this transaction supported by Miss Nombulelo Tyandela - PetroSA's Group CFO. It would be appreciated to be informed who GNPC's point of contact for this matter will be to facilitate expeditious exchange of information," it added.
Background:

The Minister of Energy, NAPO, at a meeting with the Board of Directors of the GNPC, in October 2022, ordered the GNPC to cease the transaction it was having with the PetroSA regarding the sale of some of Ghana's interest in the Anadarko West Cape Three Points Company ("Anadarko").

The government owns 7 per cent of the oil discovery in the West Cape Three Points block offshore Ghana which was discovered by Anadarko Petroleum Corporation, a US oil company.

PetroSA owns 4.45 per cent interest in the Deep Water Tano (DWT) which is operated by Tullow Ghana Limited.

By the proposed deal the government is seeking to exchange 3.5 per cent of its holdings in the Anadarko for the 4.45 per cent interest in the DWT owned by PetroSA.

Stakeholders in the sector in the sector have warned against the move, saying that it is not in the interest of the country.

Read the letters by the GNPC and PetroSA below:


Watch the latest edition of BizTech and Biz Headlines below:







AE