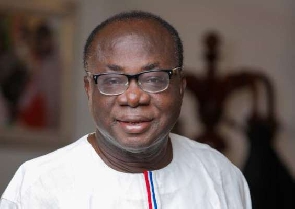 A group of 29 CSOs on Extractive Governance are calling for the immediate dismissal of the GNPC Board Chairman, Freddie Blay and Chief Executive Officer of the Corporation, Opoku Ahweneeh Danquah.
The calls come on the back of recent reports and documents indicating GNPC's intention to sell 50% stake in Jubilee Holdings Limited (JOHL) in a deal with a South African oil company, PetroSA despite significant revenue potential this interest holds for the state.

Coordinator for the Economic Governance Platform, Abdul Karim Mohammed speaking at a press briefing on May 23, 2023 noted that the persistent involvement of such persons associated with such deals pose significant risk to Ghana's stake and interest in the petroleum sector.

"We demand the immediate removal of GNPC's CEO, Opoku Ahweneeh Danquah and the Board Chairman, Freddie W. Blay from their respective positions as they have become a threat to Ghana's interest in the petroleum sector", he said.

Abdul Mohammed further noted that Energy Minister, Dr Matthew Opoku Prempeh has vehemently opposed the decision by the GNPC Board Chairman [Freddie Blay] in offering interest in Ghana's stake to PetroSA which is based in South Africa.

"It is a viable field, and it is giving us a lot of money if we allow this to go forward. What it means is that PetroSA will be entitled to 50 percent of the earnings from the field, whereas they have not had any role in developing the field to the point where it is now viable," he explained.

"The information we have is that the Minister for Energy has objected to this transaction but the Chairman of GNPC Board is pushing this transaction to the extent that the Minister of Energy had written to the Jubilee House over this transaction," the Coordinator added.
Meanwhile, documents in the media have suggested that Freddie Blay in his capacity as the GNPC Board Chairman is said to have written to PetroSA offering it an equal split in the interest held by GNPC's subsidiary, Jubilee Oil Holdings Limited.

The move has since resulted in backlash from the CSOs made up of the Africa Centre for Energy Policy (ACEP), Centre for Democratic Development (CDD-Ghana), the Chamber of Petroleum Consumers Ghana (COPEC), Imani Centre for Policy and Education and 25 others.

Watch the latest edition of BizTech and Biz Headlines below:





MA/FNOQ