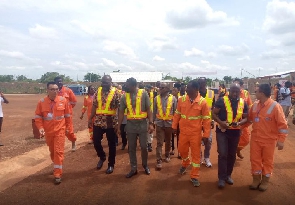 The Ghana National Petroleum Corporation (GNPC) has commenced exploring for potential hydrocarbons in the Northern and Savannah Regions, in what could be the country's first onshore production.
The Voltaian Basin, which is believed to hold substantial hydrocarbon resources, spans about 460 communities in 13 metropolitan, municipal and district assemblies (MMDAs), with 10 of these communities in the Northern Region and three others located in the Savannah Region.

As part of its exploration efforts, GNPC said it has acquired and processed over 3,800-Iine km of 2D seismic data from phase 1 to 3 of the project.

The project is expected to attract investors and will support job opportunities and infrastructure within the 13 MMDAs, if results of the exploration turn out positive.

This came to light when the Chief Executive Officer (CEO) of GNPC, Opoku-Ahweneeh Danquah, paid a two-day visit to the onshore sedimentary basin (VBP) sites in the Northern and Savannah Regions.

The CEO, accompanied by deputy Minister of Energy Herbert Krampah, paid a visit to the sites in Yendi, Kpalbe base site, Kakpnade and Karaga in the Northern and Savannah Regions to ascertain progress of the work.
He expressed gratitude to the chiefs and people for their cooperation on the onshore sedimentary basin project.

Mr. Danquah noted that the exploration and commencement of the project will help cushion the economy by increasing job opportunities.

"This project is really a game-changer for the local communities and the country, because Ghanaians will now have on-shore oil and gas drilling while the various communities will benefit from the projects," he said.

"When the oil is finally found, we will no longer go to the international market but utilize that found in Ghana to build the nation," he added.

According to the CEO, work will commence from 2023 for the drilling exercise to take place, which will help determine the amount and quality of oil in those sites.
When the drilling exercise takes place, affected farmers will also benefit though certain packages have been provided to them, he stressed.

He called on people of the areas to support GNPC and the Ministry of Energy to ensure the project succeeds.

Herbert Krampah, deputy Minister of Energy, expressed government's gratitude to the chiefs for their unwavering support since the projects began in their respective communities, and assured of government's commitment to work with them until the actual project commences.

"We are happy for the project to be executed in the North, because it is going to be a game-changer in the Northern Region – where development will take place massively when the project starts," he said.

"We have seen what the offshore discoveries have done for the Ghanaian economy; the growth that we see every year is because of oil, and if we find oil onshore I think government would have chalked up a big milestone; and that is why President Akufo-Addo is very committed to this project," he recounted
The Deputy Chief of Party at BGP-BAY in charge of the Voltaian Basin Project, Frank Gkou Arkoful, said the project has created about 200 direct and indirect jobs in the various communities, and that efforts are being made to address infrastructure concerns.

Watch the latest edition of BizTech and Biz Headlines below: