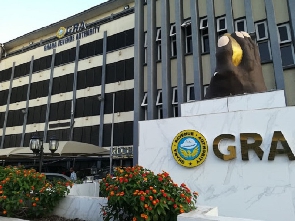 The Manager of the Spintex Road branch of China Mall has been arrested over non-payment of taxes.
The exercise was done by a joint task force of police and officials of the Ghana Revenue Authority (GRA) on Monday morning, Citinewsroom.com reports.

The amount owed was however not stated.

The manager of Sneda Mall on the Spintex Road was also arrested by the taskforce for the non-payment of taxes.

In October 2022, the GRA shut down some branches of China Mall over non-compliance with Ghana's electronic VAT system.
GRA has embarked on a special operation to clamp down on companies defaulting on their tax commitments.

According to the GRA, a number of taxpayers have failed to file their returns through the authority's certified invoicing system thus dwindling the revenue collection for the state.

Speaking ahead of an exercise to arrest business owners who have defaulted in the payments of their VAT, the Commissioner of the Domestic Tax Revenue Division (DTRD) of the authority Edward Appenteng Gyamerah said they will continually embark on such swoops to ensure that companies do the needful.

NYA/WA