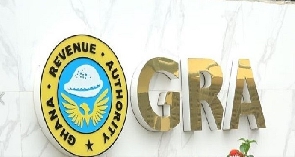 The Ghana Revenue Authority (GRA) is ready to go after all companies defaulting on Value Added Tax (VAT) payments in 2023.
According to GRA's Accra Central Enforcement Area Manager, Joseph Annan, distress operations during the festive season yielded some poitive results which they are set to build upon.

The tax agency, he told Accra-based Citi FM, visited 60 companies with close to half of the companies having been accessed.

Those found in breach, he confirmed, had been referred to the Criminal Investigations Department (CID) for prosecution per the tax laws of the land.

"At the moment, those that we visited, we have done over 60, but those that we have assessed and payments have been made were in 2017 and 2018. Those are the ones the docket is being prepared on.
"This year, it's going to be much more aggressive. Right from September till the end of December when we started, we saw some good improvements in our collection, month after month, we were achieving our monthly targets," he indicated.

He entreated businesses to comply with their tax obligations to avoid being embarrassed in the media in addition to being hauled before the courts.

"I feel it's embarrassing to have your business being mentioned in the media that you are a tax defaulter. To avoid this and other complications with legal issues and all that, we will advise companies to do the right thing," he urged.

SARA