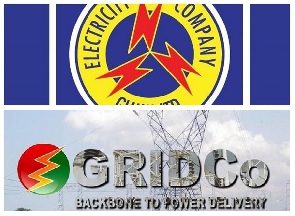 Ghana's power producer (GRIDCo) and distributor (ECG) issued separate statements on Friday evening (September 8) explaining the cause of major power blackout across the country.
Various regions experienced the outage simultaneously as widely reported on various social media platforms at about 7 pm.

Per GhanaWeb checks, large parts of the Greater Accra, Ashanti Region, Bono Region, Bono East Region, Ahafo Region, Central Region, and Eastern Region, were all impacted.

Ghana Grid Company (GRIDCo) issued a statement that attributed the outage to

power systems disturbance.

In a statement issued three hours after the outage, GRIDCo said: "The Ghana grid Company Limited (GRIDCo) the "Operator" of the National Interconnected Transmission System (NITS) informs the public that a system disturbance occurred at 19:03 affecting parts of the country.

"Restoration commenced immediately and three quarters of customers received supply as of 21:00 GMT. Power restoration efforts continue as generation is restored."
Meanwhile, minutes before the GRIDCOo notice, the Electricity Company of Ghana issued a statement attributing the incident to a technical challenge originating from the Ghana Grid Company Limited.

According to ECG, it was hoping to restore power immediately once the situation is rectified.



SARA

Ghana's leading digital news platform, GhanaWeb, in conjunction with the Korle-Bu Teaching Hospital, is embarking on an aggressive campaign which is geared towards ensuring that parliament passes comprehensive legislation to guide organ harvesting, organ donation, and organ transplantation in the country.

Watch the latest edition of BizTech and BizHeadlines below:








Click here to start the nomination process for the 2023 GhanaWeb Excellence Awards