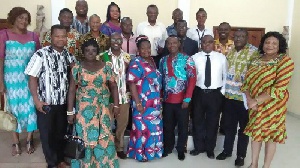 Fri, 22 Dec 2017 Source: Herman Kwame Kumatsey
The Ghana Tourism Authority (GTA) has held a consultative meeting with officials of the various associations classified as Informal establishments.
The meeting held in conjunction with the Ghana Tourism Federation (GHATOF) was to discuss issues of mutual importance and how the various associations can work together to improve Ghana's Tourism sector.

The Chief Executive Officer of GTA, Akwasi Agyeman, indicated " the informal sector operators are key stakeholders in our quest to build industry capacity and such interactions will become a regular feature of our actions to enhance dialogue and deepen collaboration ". He said the Authority has put in place measures to train, offer technical support and provide advisory services to the sector.
Okatakyie Nana Anim, President of Ghatof commended the management of GTA for their proactiveness in seeking dialogue with all segments of the industry.

At the forum, the payment of Tourism Development levies by the informal sector was discussed and a consensus was reached on the payment of flat fees by operators in the sector. Operators complained about the high cost of operations and urged GTA to make interventions on their behalf with the various public regulatory agencies that deal with the hospitality sector.
Source: Herman Kwame Kumatsey