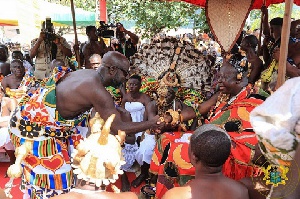 Nana Asante Bediatuo, Executive Secretary to the president; and Mr Gabby Asare Otchere-Darko, the president's cousin; on Thursday, 23 August 2018, graciously took a bow in obeisance to Asantehene Otumfuo Osei Tutu II during the Asante monarch's historic visit to Kibi, at the invitation of Okyehene Osagyefo Amoatia Ofori Panin II, to mark the 75th anniversary of late Okyehene Sir Nana Ofori-Atta I.
Mr Otchere-Darko and Nana Bediatuo, both natives of Akyem, incurred the wrath of the Asante monarch a few months ago.

Otumfuo specifically named the two gentlemen and vented his spleen at them during a call on him by a government delegation at his Manyhia Palace in March 2018.

He accused them of plotting to undermine his authority as well as that of Asanteman in favour of Okyeman and Okyehene Amoatia Ofori Panin II.

President Nana Akufo-Addo, also an Akyem, had to intervene by rendering an apology to the Asante monarch on behalf of his kinsmen.
The apology was rendered at a closed-door meeting.