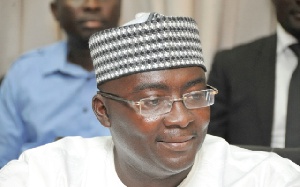 A leading member of the ruling New Patriotic Party (NPP) Gabby Asare Otchere-Darko has revealed the status of the vice president of Ghana, Dr. Mahamadu Bawumia after paying him a visit in the United Kingdom (UK) where the latter is receiving treatment.
Describing as 'sweet moments' the visit he paid the Veep, Gabby indicated Dr. Bawumia was soundly enjoying his sick leave in the UK.

According to him, Ghanaians should disregard what has been going viral, purported to be circulated by the opposition National Democratic Congress (NDC) that the Veep is surrounded by Doctors and Nurses in the UK.

"…I'm told hospital staffs are very unhappy. Many Ghanaians are trooping there to see a patient they'd never heard of, not even his picture rings any visual bells. Don't believe what you read in NDC news", he wrote on Facebook.

Mr. Otchere-Darko said he did not see any nurse or a doctor around Dr. Bawumia as rumored when he had the opportunity to visit the Vice President at his 'small decent' rented apartment.
"…Well, I'm in London and have had opportunities to spend some good, jovial and intellectual sweet moment with Dr. Bawumia but far from the view of any nurse or doctor, in some small decent flat he has rented for the very short time he is away here on leave", he said.

Dr. Mahamudu Bawumia was reported sick on Friday January 19, and was subsequently flown to the UK for medical leave on the advice of his doctors, according to information from the Flagstaff House.

It is however not confirmed when exactly the Vice President will return but his wife, Hajia Samira Bawumia has indicated her husband is doing very well and will resume work anytime soon.