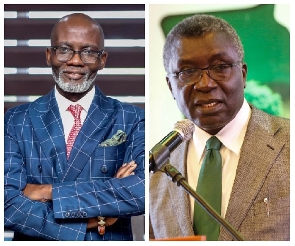 Convener of the #FixTheCountry movement, Oliver Mawusi Barker-Vormawor has offered to represent former Minister for Environment, Science, Technology and Innovation, Professor Kwabena Frimpong Boateng in the defamation suit filed against him by an influential member of the New Patriotic Party, Gabby Asare-Otchere Darko.
According to the activist who is also a private legal practitioner, his service which will be free of charge will be in appreciation of the celebrated surgeon for leading the construction Ghana's only Cardiothoracic Centre.

"My little Brother was born with a hole in heart. He was operated on at 6months old at the Cardiothoracic Centre Professor Frimpong-Boateng established.

"I was in Primary school at the time. One day while my brother was on admission, I walked to the Ghana Commercial Bank and handed them my lunch money. I wanted to deposit it in the Cardio Fund which used to be advertised on TV. I remember the cashiers pinching my cheeks and so impressed. They had no idea the trauma in my life at the time.

"Professor Frimpong-Boateng saved my brother's life. If he needs me to represent him in this defamation suit Gabby Othere-Darko has brought against him, I will do it for free," he stated in a Facebook post.

Gabby Asare Otchere-Darko has sued former Minister of Environment, Science, Technology and Innovation, Prof Kwabena Frimpong-Boateng, over the allegations made against him in the minister's report on illegal small-scale mining (galamsey) in Ghana.
Gabby, in his defamation suit, according to myjoyonline.com, is demanding GHȼ10 million in damages.

The suit filed accuses Prof Frimpong Boateng of defamation in his report on activities of the erstwhile Inter-Ministerial Committee on Illegal Mining which he led.

Gabby is demanding "The sum of Ten Million Ghana Cedis (GHC10,000,000.00) as General Damages including Aggravated and/or Exemplary Damages for Defamation for libel".

He also wants the former minister to apologise and retract the allegation he made against him, as well as an injunction to restrain Prof Frimpong-Boateng from repeating the allegations he made.

Background:
Nearly a week ago, a report authored by Prof. Frimpong-Boateng, the former Chairman of the Inter-Ministerial Committee on Illegal Mining (IMCIM) in 2021, was released containing the names of NPP officials who are allegedly hindering the fight against illegal mining.

Some of the known names mentioned in the report include the Minister for Information, Kojo Oppong-Nkrumah, Gabby Otchere-Darko, Laud Commey, Joseph Quam, among others. While they have denied any wrongdoing, some alleged that Frimpong-Boateng was equally at fault.

Prof Frimpong-Boateng in his 36-page report wrote that Gabby pestered him when the IMCIM was about dislodging the Imperial Heritage.

His report recalls how Gabby Otchere-Darko, a cousin of the president and an influential member of the ruling NPP, called him on phone to question his decision to order for the dislodgment of equipment of a Mining Company Imperial Heritage which Prof. Frimpong Boateng argues was mining illegally with a prospecting license in forest reserves.

"We were ready to dislodge Imperial Heritage from Kobro Forest when Mr. Gabby Asare Otchere-Darko called to inform me that he was the lawyer for Heritage Imperial Limited, a company that was destroying the Kobro and Apaprama Forest Reserves and in the process had also polluted and diverted the course of the River Offin, as can be seen in the satellite images below. I informed the President about the behaviour of Mr. Gabby Asare Otchere-Darko and he promised to deal with it."
Gabby in turn averred that the former minister had twisted the job of a lawyer to mean interference.

"The Minister deliberately twisted the inquiry by a lawyer of a client's issue to be an interference and the thing is, it was even a phone call that lasted not more than four minutes and he ended by saying Heritage shouldn't have been issued with the license."

Meanwhile, watch the latest episode of People and Places on GhanaWeb TV below:




Watch the latest episode of The Lowdown below:






GA/SARA