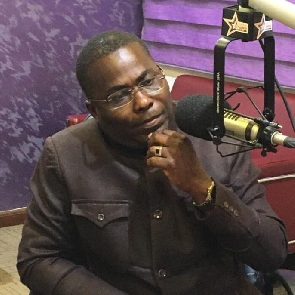 Charles Bissue, who once served as a presidential staffer under President Nana Addo Dankwa Akufo-Addo, has filed a writ at the Accra High Court, seeking the court's order to stop the Office of the Special Prosecutor (OSP) from investigating him.
This, was contained in a report put together by graphic.com.gh, which added that it was in relation to a recent undercover investigative documentary put together by celebrated undercover journalist Anas Aremeyaw Anas.

In the said video, titled 'Galamsey Fraud Part 1,' and published by Anas' Tiger Eye P.I. implicated a number of people and institutions, including Charles Bissue over certain corrupt practices.

In December 2022, the OSP announced that it had begun investigations into the allegations levelled against the indigenous mining firm, Akonta Mining Limited, some officials of the Lands Commission, the Forestry Commission, the Ministry of Lands and Natural Resources, and some mining entities, individuals, as well as political party officials.

But according to this graphic.com.gh report, Charles Bissue wants the court to stop the OSP from investigating him, stating that the office, which is headed by Kissi Agyebeng, does not have the powers to review the investigations of the police or investigate him, especially since there were no findings against him when the police concluded its initial investigations on him.
"The plaintiff contends that the first defendant does not have the power to investigate a matter that has already been investigated by the police," the statement of claim is reported to have stated.

Additionally, the writ filed by Charles Bissue is said to be seeking other reliefs such as a declaration from the court that the anti-graft body has no power to investigate and prosecute him, and that the court declares that the OSP cannot investigate him without investigating Anas and Tiger Eye P.I.

"The plaintiff is further seeking an order perpetually restraining the OSP from investigating him about the same issue investigated by the police, unless the police refers the matter to the OSP," the report added.

AE/BOG