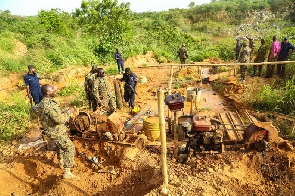 Members of the Concerned Small-Scale Miners Association have given the government a two-week ultimatum to immediately remove all Chinese nationals engaging in galamsey from all forest reserves across the country.
The group, which has raised alarm over the influx of Chinese nationals in galamsey activities in parts of the Western Region including Bekwai, Denyau, Apapraman Forest Reserve, Hiayeya Forest Reserve, and Bibiani Ntakem alleged that some officials are protecting the culprits.

They have threatened to take their own actions if the government fails to do so.

Speaking on 505 on Class91.3FM on Tuesday, 17 January 2023, the President of the Association, Mr Michael Prepah said the Chinese are freely going about their activities with impunity.

He said "As a matter of fact, we went to Achereso and when we got there, we saw these Chinese going about their normal activities, they were mining, degrading our forest reserves with impunity and they were not worried about whatever they were doing over there, that is the Apapraman forest reserve.
"We went to the Denyau forest reserve, we went to Amponuase, we went to Birichakrom and you could see that they were just doing whatever they want."

He cautioned: "We want to state on record that we don't want to come out to mention names and, so, we are only pleading with the media that as a matter of urgency we've given the government a two-week ultimatum that we want to see these Chinese out of these forest reserves, and if these Chinese are not cleared from these forest reserves, we will clear them ourselves."

Meanwhile, the Executive Director of A-Rocha Ghana, Mr Daryl Bosu, has described the government's fight against galamsey as mere lip service.

He noted that the government can show commitment to the fight only by apprehending party persons involved.