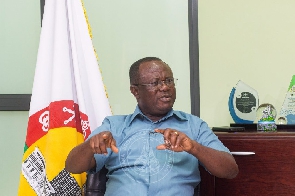 The First Deputy Speaker of Parliament, Mr Joseph Osei-Owusu, says he still stands by his statement that persons who destroy water bodies through illegal mining should be shot and killed.
In 2018, Mr Joseph Osei-Owusu pushed for security agencies to be given the power to shoot those involved in illegal mining popularly called 'galamsey' and were destroying water bodies.

He was of the belief that shooting to kill was the only way to deter criminals from engaging in the act.

He was contributing to a statement on the Floor of Parliament by Kumbugu legislator, Ras Mubarak, who condemned the burning of trucks in his constituency by the military.

His comment was in reaction to the torching of at least 14 tipper trucks and an excavator by a crack team of military personnel after several warnings to sand winners to stop their illegal activity close to the Dalun river.

Prior to that, Officials of the Ghana Water Company had raised concerns about the continuous pollution of the Dalun river due to the activities of sand winners.
The Northern region also rely heavily on dams and rivers for their water supplies but most of these dams and rivers usually dry up in the dry season.

Speaking on Atinka TV's current affairs show, "The Agenda" with Nana Yaw Fianko, Mr Joseph Osei-Owusu said anyone who mines in water, whether gold, diamond or sand was a wicked person.

According to him, despite Government's effort to stop illegal mining, those involved in the act have decided not to stop it, hence the need to either disable the perpetrators and arrest them or shoot them if they pose threats to the security agencies.

"I recall that on that day we were discussing the destruction of water bodies by humans. Someone stated, in reference to the Northern Region, that sand mining in the water had devastated the side from which water was pumped to the Tamale Municipality. When we refer to mining, sand winning is also included, so my contribution was that anyone who exploits minerals in water, be it sand, gold, or diamond, is evil. If I had the power, I would have changed the law to enable us to kill the perpetrator when we encounter him in the act. Regarding the aforementioned statement, I have never altered my position. "I believe that if you meet someone with an underwater mining machine, he is bad person," he said.

In the meantime, Mr. Joseph Osei-Owusu stated that people conflate illegal mining with small-scale mining, adding that it is heartbreaking to see how they destroy water bodies while mining.
He stated that Ghanaians are aware of wrongdoing, but continue to commit it while blaming others, especially the government.

Even when a task force was established to combat the galamsey, according to him, the act increased because even those who were sent to do so participated.

He suggested that those who really want to mine should inquire how the Forefathers of the country mined gold without destroying water bodies and open lands, saying mining has been going on for a long time even without the equipment the miners use now.