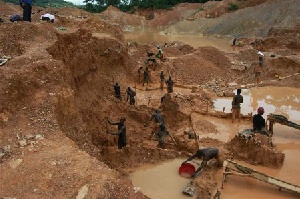 The Electricity Company of Ghana (ECG) has revealed that the destructive activities of illegal miners are affecting its operation in some parts of the Eastern region.
The company explained that the illegal miners sometimes prospect for gold around both high voltage and low voltage poles rendering the poles vulnerable to collapse from the slightest rainstorm.

Due to soil incompatibility and erosion of the mining sites the ground is rendered unstable for electricity poles erections, hence, the ECG had to spend extra money to divert voltage lines to areas which can guarantee stability.

The Eastern regional Manager of ECG Ing. Michael Baah said this Wednesday in an interview with Starr News during an inspection of two primary substations at Asamankese and Suhum which are near completion.

He said ECG is in support of the fight against galamsey as it poses serious challenges to the operation of the company.

Illegal mining activities in Ghana has led to the destruction of arable lands and pollution of water bodies with poisonous chemicals.
Experts have predicted that Ghana may import water after 2020 should the current situation continue unabated.

The Government has thus promised to deal with the menace once for all with comprehensive policy approach in the coming days aimed at preserving and conserving the environment from further destruction.

The 2× 10MVA 33/11KV capacity primary substations in Suhum and Asamankese areas which are 90% complete would help to improve voltage supply and also ensure reliability in the areas thereby addressing the low voltage being experienced by customers particularly at Asamankese.

Asamankese and Suhum areas have been struggling with low Voltage due to long distance of power supply .The situation has affected the local economy to the extent that banks and other companies have to mostly depend on generators to work.

The substations when completed will solve the challenge and provide reliable power to about 40,000 and 31, 000 customers in Asamankese and Suhum respectively.