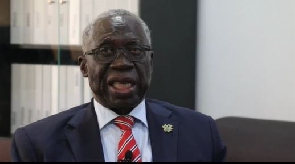 Senior advisor to the president, Yaw Oafo-Maafo, has identified the menace of illegal small-scale mining (galamsey) as a moral problem that the church must help to solve.
In his view, the menace does not require the intervention of the security agencies but rather, the church stepping in to speak to the conscience of those participating in it to the detriment of the wider society.

"It (galamsey) is a crusade we should take…the president said once that he was putting his presidency on the rope. What is happening? It is not something that you need an army to solve. It is a moral problem," he stated in an address to Presbyterian faithful at a durbar.

"It is a moral problem and therefore Christianity comes in, you want to make money for the rest of the nation to perish? No, not at all. What morals are we teaching.

"Therefore, I think we need to do a lot more than we are doing as Christians to the whole society in which we exist," he added.
The durbar of August 19 formed part of the 23rd General Assembly of the church which was held in the Eastern Region. Osafo-Maafo represented Vice President Mahamudu Bawumia.

Galamsey has been a major issue over the last few years with the increasing negative impact of the activity on water bodies and on forests in parts of the country.

A leaked report by a former environment minister alleged complicity of people at the presidency, Members of Parliament and other opposition politicians in the galamsey trade highlighting why the fight has been largely deemed to have failed.


SARA

Ghana's leading digital news platform, GhanaWeb, in conjunction with the Korle-Bu Teaching Hospital, is embarking on an aggressive campaign which is geared towards ensuring that parliament passes comprehensive legislation to guide organ harvesting, organ donation, and organ transplantation in the country.

You can also watch the latest episode of Everyday People on GhanaWeb TV below:




You can also watch the latest episode of The Lowdown on GhanaWeb TV, as we explore the need for organ donations, below:




Share your news stories and ideas with GhanaWeb




To advertise with GhanaWeb