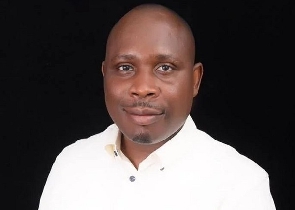 Sat, 29 Apr 2023 Source: Richard Obeng Bediako, Contributor
Paul Amaning, a communicator for the New Patriotic Party (NPP), has admonished various institutions working towards ending the sickening canker of illegal mining in the country to do so devoid of blame game.
He called on government to reform the mining law.

"Let's put an end to the blame game and consider how we can collectively handle the situation. The activity, which poses a harm to the environment, particularly to our water bodies, requires concerted efforts to combat it. It is possible to stop mining blame games. It can be resolved quickly. Galamsey and mining problems can be resolved by President Nana Addo alone if the current mining law is revised."

"The government is able to purchase gold from legitimate mining businesses, but it appears that by always privatizing anything that may benefit the nation, we have let our guard down and allowed foreigners to profit. Tell me a Ghanaian who has money worth 3 billion cedis merely from mining; they are just having fun. If we are talking about proper mining, Ghanaians do not prospect in order to determine how much gold they would receive before making financial plans," Paul Amaning told Movement TV.

He has noticed that some organizations are determined to place the blame squarely at the feet of the government, which he described as alarming because the crusade is a collective one and assigning blame will work against the general interest.

Paul Amaning explained that the fight against galamsey was not a fight against mining indicating that there are distinctions between the two.

Background
The mining sector has historically been one of the major economic activities that contribute to national growth.

Many countries have grown their economic stature by extrapolating natural resources through mining.

Given the economic boom, not much attention is paid to the health implications of the mining activities.

Ghana is among the top mineral-producing countries in Africa.

While large-scale mining companies obtain permits to extract the minerals, smaller groups and individuals also engage in small-scale artisanal mining.
Source: Richard Obeng Bediako, Contributor