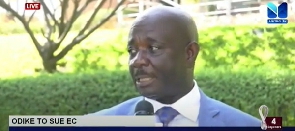 The Founder and Flagbearer of the Union Government, Akwasi Addai Odike, has alleged that the President and government officials are behind illegal mining, and so whatever they do publicly to stop galamsey is just a cover up to waste everybody's time.
A few weeks ago, the Ministry of Lands and Natural Resources revealed that it was set to take delivery of four aircraft from the Ghana Armed Forces to aid the fight against illegal mining.

George Mireku Duker, who is the Deputy Minister of Lands, said that the Armed Forces' planes could be used as a new way to fight galamsey.

In November last year, some personnel of the Ghana Armed Forces who were deployed to combat illegal mining in forest reserves and river bodies seized 30 excavators, destroyed four, and immobilised four others on the spot.

This occurred after the relaunch of Operation Halt II on October 11, 2022, with the seizure and destruction occurring between October 11 and October 31.
Speaking on Atinka TV's morning show, Ghana Nie with Ama Gyenf Ofosu Darkwa on the matter, Mr Akwasi Addai Odike explained that the army has been perfect when it comes to delivering on its mandate and so if they have not been able to fight galamsey, then it means the leaders are behind it.

"Ghanaian soldiers have gone on peacekeeping missions many times; none have been successful, But if they cannot stop galamseyers who are not holding guns in their own country, then the leaders are behind it. The Ghana Army is good, and they have been tried and tested; they have gone on so many peacekeeping missions and they were successful.

"So, if Nana Addo Dankwa Akufo-Addo is the Commander-in-Chief of the Ghana Armed Forces, and it is not that there is some insurgency or some groups have invaded the country, but our own brothers, who will hear us when we talk to them, and you have gone to bring aircraft? For what? He is wasting everybody's time," he said.

He continued, "Galamsey is being done by government officials and the President, and so whatever they do is something they are using to cover up; it will not work, and we will not get a solution."