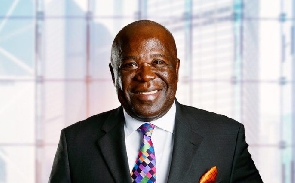 Ghanaian businessman and Chancellor of the University of Cape Coast Sam Jonah has described illegal mining popularly known as galamsey as the worst thing that ever happened to Ghana's public health.
He noted that he is not against small-scale mining since it forms part of efforts to give people an opportunity to make a living.

He is however against illegal mining activities which he lamented has caused havoc and destruction to our water bodies.

"Illegal mining is without a doubt the worst onslaught on the public health of our nation. Let me be clear; I am not against small-scale mining. I am for wealth creation to lift each impoverished community, not health destruction in the unwise plunder of greed and insanity. I am for lawful labour for your legal tender. What I am against is the manner in which the laws of the country are flouted with impunity to destroy water bodies and the environment for the many so that just a few people can make money," he said.

He made the remarks in an address at the 2023 annual general conference of the Pharmaceutical Society of Ghana in Takoradi on Wednesday, September 6, 2023.
He underscored the need for our leaders to enforce the law since there were several laws against illegal mining practices.

"Like corruption, illegal mining is not about the lack of laws but the will to enforce the laws. The law is very clear, you cannot mine within a certain proximity of a water body. The law is very clear about how you dispose of your waste from your mining activities. The law is very clear on lawful activities in forest reserves. The law is also very clear; foreigners cannot engage in small-scale mining. And for those who are licensed, the law requires regular reporting to the Minerals Commission which is expected to be monitoring activities. So, in the age of drones, the Minerals Commission should be capable of monitoring all mining activities in real-time," he added.

"How is it then possible that the Minerals Commission seems powerless to stop the activities? What is going on? Why are those empowered to protect the people looking on, or away, whilst these heinous activities destroying the very basis of life in our communities are going on?"