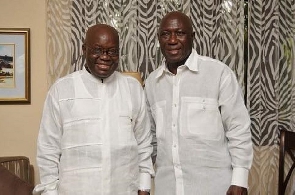 Former environment minister, Prof. Kwabena Frimpong-Boateng has been given seven days to retract and apologize from some allegations he made against a member of president Nana Addo Dankwa Akuf-Addo's security team, Edmund Kwadwo Koda, alias Captain Koda.
Captain Koda, according to a pro-government newspaper had written to the former minister in respect of some things he wrote about Capt. Koda in his leaked report of 2021 on illegal small-scale mining, galamsey.

The Daily Guide newspaper reports that Koda's letter to Frimpong-Boateng was written by Akufo-Addo, Prempeh and Co, a firm co-founded by president Akufo-Addo.

"A demand notice issued by Akufo-Addo, Prempeh and Cp. Gave the former minister who was the chairman of the erstwhile Inter-Ministerial Committee on Illegal Mining (IMCIM), one week to retract and apologize for what they describe as "baseless allegations" contained in the report on illegal mining against their client," the report state in part.

The demand notice denied the allegations in the report, stressing "Our client instructs us that, the above statement contained in your report and attributed to him is false, written without basis, malicious and a figment of your own imagination calculated to impugn and / or discredit our clients enviable reputation and integrity.

What did Frimpong-Boateng report say about Capt. Koda?
"….About two years ago the attention of the IMCIM's task force was drawn to a site that had been degraded and the tailings from there were directed in the Birim River near Anyinam.

"The task force impounded two excavators and deposited them at the police station in Anyinam. Frantic telephone calls were received from Capt. Koda of the Presidential security detail, who asked for the excavators to be released.

"He informed the task force that the owner of the concession, Hon. George Kwame Aboagye, the MP for Asene Akroso Manso is his brother."

Meanwhile, watch the latest episode of #SayItLoud on GhanaWeb TV below:




Watch the latest episode of The Lowdown below:






SARA