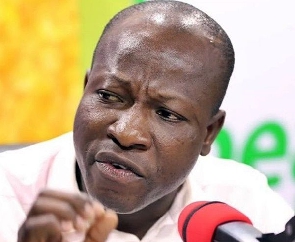 James Kwabena Bomfeh has expressed disappointment in the Presidency over their reaction to Prof. Frimpong-Boateng's report alleging that some government officials are actively involved in the galamsey menace.
Following a report by Professor Frimpong-Boateng saying he can state "without any equivocation that many party officials from the National to the unit committee level had their friends, PAs, agents, relatives, financiers or relatives engaged in illegal mining", the Presidency, in reply, has described the allegations as a catalogue of personal grievances.

Prof. Frimpong-Boateng further alleged that "most of them engaged Chinese working for them. I am not referring to party people who had their legitimate concession and were mining sustainably as they were instructed to do. There are appointees in the Jubilee House that are doing or supporting illegal mining or interfering with the fight against the menace" but according to the Presidency, these "allegations contained in the document are at best hearsay".

But the former CPP General Secretary, James Kwabena Bomfeh, alias Kabilla, says the Presidency didn't offer the right response to Prof. Frimpong-Boateng's claims.

"When I read the statement from the Presidency, I was even the more disappointed . . . that wasn't a right response," he said while discussing the issue on Peace FM's 'Kokrokoo' show.
To him, instead of concluding on the claims, the Presidency should have rather given room for Prof. Frimpong-Boateng to clarify his allegations.

He explained that the Presidency should have pointed out the mistakes in the claims and asked the Professor to provide further clarifications.

"I feel this would have caused Professor Frimpong-Boateng to give thorough details."