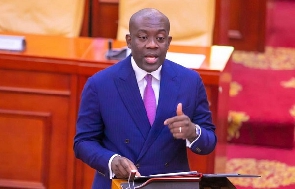 James Kwabena Bomfeh, popularly called 'Kabila', has asked the Minister for Information, Kojo Oppong Nkrumah to up his game or resign.
Speaking on Peace FM's 'Kokrokoo' show in relation to Professor Frimpong-Boateng's report, Mr. Kwabena Bomfeh expressed utter disappointment in the work by the Information Minister.

He wondered if Kojo Oppong Nkrumah has become tired of his job.

"My brother, Kojo Oppong Nkrumah, up your game! If you think you are tired and can't work to help the President, nothing stops you from resigning. If it overwhelms you, resign," he exclaimed.
Kabila made this emphatic statement as he felt the Minister and other government officials are not working hard enough to help the President, Nana Addo Dankwa Akufo-Addo's vision.