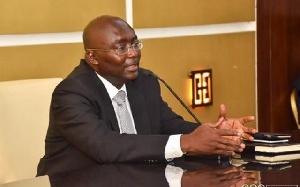 Vice President Dr Mahamudu Bawumia has expressed worry over the increasing spate of illegal mining activities across the country.
According to him, the recent water crisis in the country is as a result of 'galamsey'.

Speaking at an event on the theme: "Efficient Utilisation of Natural Resources for Sustainable Socio Economic Growth in the Country", in Accra on Friday 17 March, he said government would soon announce measures to deal with the scourge of 'galamsey'.

He described as "disturbing" the problems caused by the activities of 'galamsey' and noted that government had the political will to deal with it.
"The scourge of 'galamsey' is something that we are all witnesses to. It's very disturbing. If you go across the country and look at what is happening to our water bodies they are essentially red in colour …Water treatment plants have been shut down in a few places because of the pollutants in the water and the impact of galamsey. This is not something that as a country we should take lightly," he stated.

"The water shortages that we are seeing across this country are very much linked to environmental degradation and the scourge of 'galamsey' and illegal small-scale mining in the vicinity of many water bodies in this country. We've been in office for about two months now and the president has requested that we come up with a policy paper. Some experts are currently working on this, specifically on 'galamsey'. It will have to take a lot of political will to deal with it, but it has to be dealt with because the damage is going to be irreparable if we leave it as it is."

Dr Bawumia disclosed that in a few weeks government would announce some major policies on dealing with the menace that 'galamsey' activities are posing in this country.