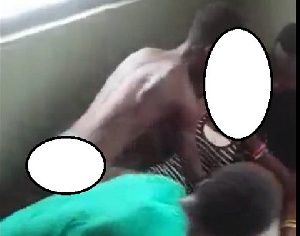 The Ghana Police Service says it has started processes to investigate and arrest at least five men involved in a gang rape of a young lady.
A viral video capturing at least four teenage boys gang raping a girl sparked outrage on social media.

A statement issued on Monday, 18 December and signed by ASP Olivia Turkson from the Public Affairs Unit of the Police CID, said: "In view of the serious nature of the act as shown in the video, a special investigation team has been constituted at the CID Headquarters to analyse the video with the aim of identifying those involved and getting them arrested for the necessary legal process to be activated."

The police further cautioned all media houses and those in possession of the video to stop circulating it since it is an offence to circulate such obscene material.

The statement added that anybody with any relevant information should personally report to the Cyber Crime Unit at the CID Headquarters for further action.
In the video, the boys overpowered the girl on the floor and had their turn with her as she struggled for freedom.

The little over two-minute video, suspected to have been shot by the boys, captured the faces of the rapists as well as the victim.

The rapists were heard speaking Twi language.